Privately Owned Vacation Homes on Florida's Gulf Coast - independently owned, locally managed and operated
Search Availability
Book directly through the Locally Based Property Manager.
Our properties are either exclusively owned by Secret Places or privately owned by carefully selected individual homeowners. They are maintained and managed in partnership with our locally based property managers in Florida.
Spend a few moments with us and we will help you to discover your very own "secret place".
We invite you to book with confidence and to join our growing list of friends who return to stay with us year after year.
View our Waterfront Homes
View our Boats
Verified Properties
What you see is what you get
Beautiful Holiday Homes
Payment accepted in US$ - GBP - Euros
Privately Owned - hand picked and verified
Ease of selection - we do not list hundreds or thousands of properties
Service and Security
Multiple years customer service
In business since 1997
Local home management in each location
Efficient personal service
Talk with a "real" person
Locally based contacts in Florida and UK
Expert Service - Best Price Guarantee
No travellers fees
No commissions
No booking fees
No additional per person fees
No refundable security deposits required
No end of stay electricity charges
We do not sell inflated insurance policies
The Quality of Time
Secret Places was formed in 1997 firmly determined to develop something exceptional in prestigious accommodation for the Florida vacation experience. At Secret Places we know it's all about the quality of time. We understand how much your choice of accommodation can make or break your vacation experience, so all our Florida Gulf Coast holiday homes are carefully chosen for their superior style and comfort, outstanding views and prime waterside locations. At Secret Places we feature an outstanding selection of Cape Coral vacation homes, Fort Myers vacation homes, Bradenton vacation homes, Naples vacation homes and Marco Island vacation homes. We do not compromise quality for cost and we strive to ensure that a vacation spent in one of our homes will be a special experience with lasting memories and not simply just "somewhere to stay."
South Florida Natural Beauty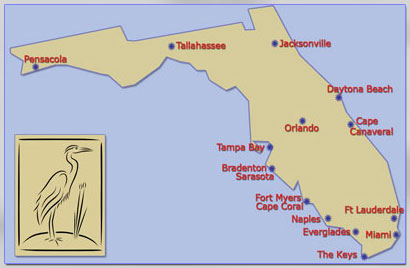 Florida stretches more than 400 miles from its state line with Georgia to the Florida Keys.
It's famous for its coastline, its Everglades, and its colorful coral reefs.
South Florida is an area of incredible natural beauty... from warm, salty, emerald green waters dotted with thousands of tiny islands in the Gulf of Mexico... to miles of white sand beaches with high-rise condominiums, hotels and trendy clubs along the Atlantic Ocean... with a dash of The Everglades cypress swamps, wetland prairies and pine forests home to a variety of wildlife...
South Florida has something for everyone!
Website Designed by SLG Web
Cape Coral Blog
Cape Coral
If you want to get away and leave the stress of everyday life behind, a vacation rental in Cape Coral would make the perfect choice. Known as the Venice of Florida, Cape Coral is criss-crossed with over 400 miles of waterways and canals (most with access to the Gulf of Mexico) making it a boater's dream. Just a few minutes away by boat or car are the beautiful beaches of Sanibel and Captiva Island.
Returning from an unforgettable boating trip, stop by Rumrunners and enjoy a cozy nightcap before going back to your private house to experience a beautiful sunset. A barbecue on the terrace by the pool of your luxury home in Cape Coral is what holiday dreams are made of.
Numerous recreational opportunities, such as, cycling, fishing, swimming, roller blading, horseback riding, sailing, surfing, diving, tennis, water skiing, etc., and several 18-hole golf courses are nearby and make for an enjoyable vacation experience. Numerous parks and lakes in the area invite to relax. Of course there are also plenty of shopping opportunities as well.
Enjoy yourself in a luxuriously appointed Cape Coral vacation rental and leave none of your wishes unfulfilled.
Ft. Myers
Fort Myers is located in Southwest Florida and is a very popular vacation destination.
As an alternative to a hotel, why not upgrade your stay with a luxury vacation rental home? You can rent a boat and explore the nearby islands of Sanibel and Captiva Island. In the evening you can enjoy extensive walks on the beach and be spoiled at the best restaurants on Fort Myers Beach. If you like eating fish you will more than get your money's worth. Last but not least, barbecue on the cozy terrace of your private house and watch the sunset as you enjoy a delicious steak.
If you love shopping, this is the place to be. Fort Myers has a large shopping mall with 160 stores. The Edison Mall was completely renovated recently and now shines with new splendor.
If you'd like to enjoy some Southwest Florida culture, pay a visit to the Fort Myers Historical Museum or visit the Edison and Ford Winter Estates. From 1885 until his death in 1931, Thomas Edison spent the winter on the Caloosahatchee River. Today, the 5.5-acre property is separated by Mc Gregor Boulevard. The laboratory and museum are located on one side and on the other there are two houses, one of which belonged to a younger friend of Edison, Henry Ford.
On the terrace by the pool of your Fort Myers vacation home, you will quickly understand why men like Thomas Edison chose just this place to escape the winter months.
Sanibel
Sanibel Island is an island to fall in love with. Enjoy the soft white sand, an expansive beach, swaying coconut palms, lush tropical foliage and beautiful crystal blue water.
If you're vacationing in a luxury home in Cape Coral or Fort Myers, you can reach the island by boat or car in no time. Of course you can also a holiday in a vacation rental on Sanibel Island. Set out in the early morning hours and enjoy extensive walks on the beach with absolute calm - far away from mass tourism. Collect shells, and if you're lucky you may find real treasure that has been washed ashore by the tides.
Then come refresh on your terrace and relax by the pool of your private Sanibel Island vacation home.
Captiva/ Upper Captiva
Captiva Island is the sister to Sanibel Island and offers the visitor a similarly enchanting tropical island experience. Sunrises and sunsets on Captiva Island make unforgettable memories.
Do not forget to explore everything Captiva Island has to offer on your vacation. Visit the Bailey-Matthews Shell Museum, where you can admire over 200 000 species of shells from around the world or visit the boutiques and shops and stock up with some nice souvenirs. If you do not want to use the kitchen in your luxury vacation home, dine out at one of the many restaurants cafes or bars on Captiva.
If your vacation rental is not on Captiva Island proper, you can reach the island by car only via the Sanibel Causeway. This is not free, but it is obviously worthwhile to invest a few dollars to visit this jewel.
The island has a complete infrastructure, so that residents are not required to leave the island. A private marina and golf courses are inviting to those interested in sports. The South Seas Resort Island is known for romantic weddings.
Property prices on Captiva Island are among the most expensive in Florida. Construction opportunities are so limited and the view to the sea is of such keen interest, only the lucky few can afford a luxury vacation home on Captiva.
Exclusive Ferienhäuser mit Pool & Ferienwohnungen in Florida direkt online buchen
Luxus Ferienhäuser in Florida mit Pool von privat zum Schnäppchenpreis hier direkt mieten. Erstklassige Ausstattung finden Sie hier in einem Ferienhaus in Florida.
Fast immer gibt es einen beheizbaren Pool bei unseren Ferienhäusern in Florida von privat.
Cape Coral Rental Houses bietet erstklassige und hochwertig ausgestattete Luxusferienhäuser in Cape Coral an. Alle Ferienhäuser sind in Privatbesitz und haben damit auch alle eine persönliche Note. Es gibt einen schönen Außenbereich mit privatem großen Pool und häufig außerdem mit einem Whirlpool. Die Ferienvillen liegen alle in Cape Coral direkt an einem Kanal, sind überwiegend mit einem privatem Bootsdock ausgestattet und haben von dort Zugang zum Golf von Mexiko. Eine Bootsvermietung kann empfohlen und eine Anmietung auf Wunsch für unsere Gäste arrangiert werden. Es ist uns eine Freude Interessenten und Gäste bei der Suche nach dem Feriendomizil, das alle Erwartungen erfüllt, zu unterstützen. Da wir jedes Haus persönlich kennen ist es für uns einfach, Sie entsprechend Ihren Wünschen zu beraten, damit Sie Ihr Traumferienhaus finden.
Unser kundenorientierter Service beginnt mit der Beantwortung der Anfragen von Interessenten zu den Ferienhäusern, geben Hinweise hinsichtlich Mietwagen und Bootsvermietungen und endet nicht mit Ihrer Buchung. In Cape Coral erwartet Sie eine freundliche und hilfreiche (Deutsch und Englisch sprechende) Hausverwaltung, die Ihnen Details zum Haus erklärt und alle Fragen beantwortet. Bei uns wird die persönliche Betreuung und das Ziel, zufriedene Gäste zu haben groß geschrieben, denn das ist bei uns eine Herzensangelegenheit.
Die meisten Luxus-Ferienhäuser liegen ca. 30 Minuten Flughafen RSW - Southwest International Airport in Fort Myers, Florida, entfernt. Wenn Sie die Traumstrände von Captiva und Sanibel Island besuchen möchten, können Sie diese in kurzer Zeit mit dem Auto oder Boot erreichen.
Finden Sie das Haus, das Ihren Wünschen entspricht – wir bieten Ihnen die Grundlage für einen unvergesslichen Urlaub!
Ein Ferienhaus in Cape Coral, Florida mieten
Sie planen einen Urlaub in Florida? Wir bieten Ihnen wunderschöne Ferienhäuser in Cape Coral, eines der populärsten Urlaubsziele im Sunshine State aufgrund der ruhigen Lage abseits des Touristenrummels und der Vielfalt an Angeboten. Alle unsere Cape Coral Ferienhäuser sind in privatem Besitz und in perfektem Zustand. Dafür sorgt unsere professionelle Verwaltung und beispiellose Kundenbetreuung. Unser exzellenter Service und durchwegs hoher Standard garantieren Ihnen einen entspannten Urlaub in einem der schönsten Flecken der Erde.
Ferienhaus mit Boot
Was Cape Coral besonders populär macht, ist die Möglichkeit, ein Ferienhaus mit Boot zu mieten. Viele der Cape Coral Ferienhäuser befinden sich an einem Kanal mit Golfzugang, darunter auch die Mehrzahl unserer Angebote. Wir kümmern uns gerne darum, dass an Ihrem Ferienhaus in Cape Coral gleich ein Boot auf Sie wartet. Ein spezieller Bootsführerschein wird in Florida nicht verlangt - Ihr Autoführerschein genügt. Nach einer gründlichen Einweisung können Sie Richtung Golf von Mexiko starten und die herrliche Umgebung per Boot erkunden. So wird der Florida Urlaub wirklich perfekt.
Cape Coral ist genau der richtige Ort für Ihren Florida-Urlaub
Warum Florida, warum Cape Coral? Ein Urlaub in Florida kann alles bieten, vom Sonnenbaden am Strand über sportliche Aktivitäten wie Golfen und Boot fahren bis hin zu Ausflügen in die Vergnügungsparks wie Disney World und Busch Gardens. Florida ist auch für Naturliebhaber ein Erlebnis, mit zahlreichen Naturschutzgebieten, Wasserwegen für Kanu- und Kajakfahrten, erstklassigen Wander- und Radwegen sowie Reiterpfaden. Der Sunshine State bietet für jeden etwas. Mit etwa 360 Sonnentagen im Jahr spielt auch das Wetter mit.
Warum ausgerechnet ein Cape Coral Ferienhaus mieten? Von dieser Stadt aus sind alle Ziele in Süd- und Zentral-Florida bequem zu erreichen. Entspannen Sie sich nach einem ereignisreichen Tag in der ruhigen Atmosphäre eines unserer Cape Coral Ferienhäuser, vielleicht am Pool oder auf dem Bootsdock, und planen den nächsten Urlaubstag.